Thunderbird Converter
Perfect Thunderbird Converter to Export Thunderbird emails to EML, MBOX, RTF, HTML, EMLX, MBX, MSG Files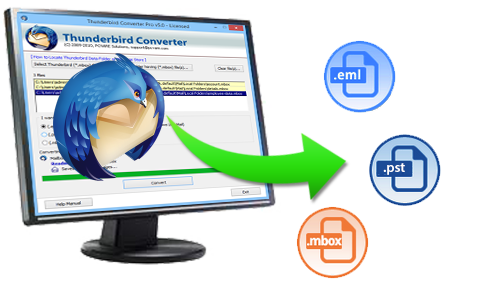 Convert Thunderbird to EML files supported email clients - Outlook Express, Windows Mail, Windows Live Mail, eM Client
Convert Thunderbird to MBOX supported email clients - Mac Mail, Evolution, Postbox, Seamonkey, Spicebird, Mulberry, Icewarp etc.
Convert Thunderbird to PDF Adobe Acrobat Reader etc.
Convert Thunderbird to MSG MS Outlook etc.
Thunderbird Converter to Export Thunderbird Files
Get the power to transfer Thunderbird emails by using the Thunderbird Email Converter that allows to completely export emails from Thunderbird to EML (Windows Live Mail, OE and Windows Mail), MBOX (Mac Mail, Entourage, Eudora, PocoMail, Spicebird, SeaMonkey, The Bat), EMLX (Apple Mail), MBX (Eudora), HTML (Internet Explorer), RTF (MS Office), MSG (MS Outlook), PDF (Adobe Acrobat Reader). The software acts as multiple converter program to export Thunderbird emails into other popular email apps.
Elegant Thunderbird File Converter enables to maintain all emails properties – Attachments, Images, Formatting, header Information, etc. during the conversion. Thunderbird Exporter is created to solve users' How to convert Thunderbird emails problem because export option is not available in Thunderbird and it helps to do the Thunderbird Conversion quickly.
Get Single Solution for Multiple Conversion Options
Thunderbird Converter Software is multidimensional migration solution to export Thunderbird Files into multiple emails apps. The software provides to export & convert Thunderbird to various given emails Clients –

Convert Thunderbird to Outlook by using 'PST' Option.

Convert Thunderbird to Windows Live Mail by using 'EML' Option.

Convert Thunderbird to Outlook Express by using 'EML' Option.

Convert Thunderbird to Mac Mail by using 'MBOX' Option.

Convert Thunderbird to Entourage by using 'MBOX' Option.
More Specialties of the Thunderbird Exporter
Batch Conversion Support

Software easily allows users to import multiple Thunderbird emails at a time so as to save time of their users in Thunderbird Conversion. This software also provides the auto-detect feature.
Preserve & Save Meta-Data information

Easily maintains all the Header information like; (To, Bcc, From, Cc, date, Attachments, Time). The program never handles any data of the Thunderbird emails. It only converts them to other format. Accuracy is well maintained.
Maintains formatting of Thunderbird Emails

Thunderbird Conversion utility easily preserves proper formatting of emails during the conversion process of Thunderbird emails.
Convert emails with all its attachments

The software supports to convert Thunderbird emails to other format along with all attachments if any. It saves all kind of attachments like - images, documents, reports, pdf, doc, xls, png, jpg etc.
Folder structure will be unchanged:

All email folder structure are well maintained during conversion. Emails are saved in proper folder structure.
All Windows are supported

This tool successfully runs with all the Windows versions for example; Win 7 (32/64 bit), Vista, XP, 2003, 2002, 98, etc.
Lets Give Thunderbird Exporter a Try
Trial Version will import upto 5 messages or mails of Thunderbird. To convert all Thunderbird emails, Get the complete version -
Working Video - Thunderbird Converter
Watch the Video of the software that helps for converting Thunderbird emails into other email applications -
Screenshots - See How Thunderbird File Converter Looks
Take a preview of the software that helps to understand how does it look and work for getting all emails from Thunderbird into PST, EML, MBOX
See What clients Speaks About Us
Being a Home user I do not have much technical knowledge so I was in more trouble for Thunderbird to Windows Mail conversion but the Thunderbird Conversion tool solved this task within few mouse clicks. Its Batch mode option is more helpful for immediate conversion.
Adriano Smith (France)
Firstly I didn't trust on the Thunderbird Converter that it will solve my problem to convert Thunderbird emails into MS Outlook but after using it I was happy. It converted 2500+ emails from Thunderbird into Outlook in few seconds. Thanks!
Janerose Hunt (New York)
Frequently Asked Questions by The Clients
I have large numbers of Thunderbird Files and want to convert them to MSG in single round processing. Can the software do it?
Yes, The Software supports batch option (Add Folder having (*mbox) files (s)) which can convert your all Thunderbird files into MSG format at once.
My Thunderbird is providing crashed error so I couldn't open it and now I want to convert my all Thunderbird messages into eM Client. Is it possible?
Yes, the software can convert crashed Thunderbird files into eM Client no matter what the version is and that too with all images, attachments, formatting, metadata, etc.
I would like to convert Thunderbird emails into Mutt Mail or HTML format, which option is useful and how can I do this task?
Select MBOX option during the Thunderbird emails migration then shift all converted files to Mutt email client. Tool will make sure that there will be no loss in any email. For Thunderbird to HTML Conversion use HTML option.
Where does Thunderbird Store files?
Follow the mentioned simple steps to know about the messages store location of Thunderbird –
Open Thunderbird go to File Menu » Tools Menu » Account Settings » Local Folder
A Store Location Path will show there, follow it and find all Thunderbird files. It will be –
C:\Documents and Settings\[Your user name]\Application Data\ Thunderbird\ Profiles\ [ID].default\ Mail\ Local Folders
I have Thousands of Thunderbird files with large size for conversion in Windows 7 Mail. Can I use this software for that?
Yes, you can easily convert unlimited Thunderbird files to Windows 7 Mail without any file size or quantity limitation.